Hmmm…
Over on the Patreon Page, $5+ Patrons are now able to download a very sweet, romantic pin-up featuring Fluke and Flyboy, flying the more-than-friendly skies. Comments have included "It's YP meets Peter Pan meets Titanic, it's just so awwww.",  "Aw, that's so cute and sweet. It sort of reminds me of that date-flight scene from the first Superman movie…" and "it's very romantic, that moon of all things! Titanic indeed x'D but I mostly love their faces, their expressions speak volumes :)"  Here's a sneak preview of that: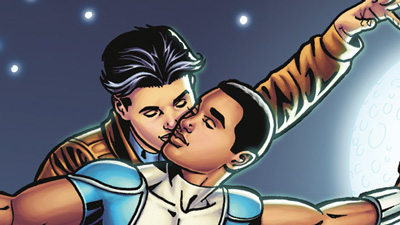 Dawww…
Folks who join my Patreon now will be able to download the full image as a wallpaper immediately. Patrons who pledge $10 or more will be sent a high-res version with over double the resolution on the 10th of August.
But that's not all. Patrons loved Silverjow's Tsunami pin-up (which $5+ Patrons, even new ones, can still download immediately). To remind you, this is a preview of what Silverjow did with Tsunami: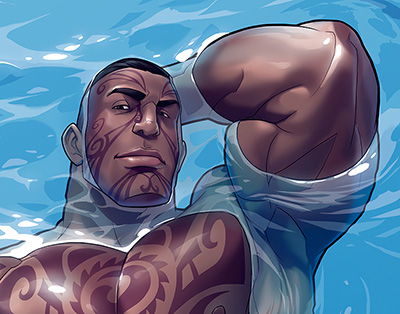 Pretty cool, huh?
So, I've decided to create a new Milestone Goal. If the Patreon hits $6600 (less than $200 away), all Patrons will be able to download a digital wallpaper of Silverjow's completely new, never-before-seen pin-up of everyone's favorite silver fox, The Annihilator! (And $10+ Patrons will be able to download a high-res version of the pin-up, with over twice the resolution.)
The Annihilator may be a bit rough on these current comic pages, but Silverjow has managed to bring the sexy back for our hot supervillain. Want to see why it's so good to be bad? If we hit this Milestone Goal, you will! 🙂
There are lots of great benefits to being a Patron (you can see them all here along with an explanation of what the heck Patreon is), and you'd really be helping me out if you became one too. If you're enjoying our work here and would like to see it continue (and would like to get access to all kinds of special benefits),
please take a moment to watch the video on my Patreon page and consider becoming a Patron.
So! Even stuck on a deserted island, The Platinum Priestess is still making things difficult for our heroes. Will Spooky be able to break through her dark spells? Or will they need The Annihilator to spill the evil magic beans?
Tune in this Wednesday to find out! Hope to see you there! 😀