Hmm. That metal ball looks familiar…
We have some new Fan Art, "a silly parody of chapter 1, page 23" from Xithyl. It asks the question: "What if The Platinum Priestess, instead of The Annihilator, had been responsible for gaining Kyle's trust?" Do check it out. 🙂
And y'all continue to kick butt over at the Patreon Page! Since the last update, y'all have leapt forward to within just $7/month of the next Milestone Goal (!) which is at $6500/month, raising your support by $351/month to $6493/month! So, not only are we just a couple dollars away from triggering the next Milestone Goal. We're also just $500 away from me being able to make comics for y'all full-time! This looks like it might actually happen. And y'all would have been the ones to make it happen! Thank you so, so much!
Patrons have let me know they are loving what the previous Milestone Goal unlocked: seeing the Script pages along with the Thumbnail Pages and the Penciled Pages for Patrons with each update for a complete behind-the-scenes look at how these pages come together.
But of course, the exciting news is the fun new variation of the Full Monty Annihilator that Rum-Locker has made!
The $5000/month Milestone Goal unlocked a fully-nude, full-color Full-Monty The Annihilator Pin-Up as a Special Digital Reward for those pledging $5 or more. The version that was previously released let you see everything. How big our man Duncan is. Whether he is cut or uncut. And why Kyle had the reaction he did when he first saw The Annihilator naked.
But sexy Annihilator was over sexy, pure black. And Rum-Locker and I thought it would be extra cool if he added a little background to help fuel your imagination of where you might be encountering our Silver Fox. So I asked him to start work on that and made the $6500/month Milestone Goal a special wallpaper with the Full Monty Annihilator with that background as a Special Digital Reward.
Want to see a SFW sneak peek?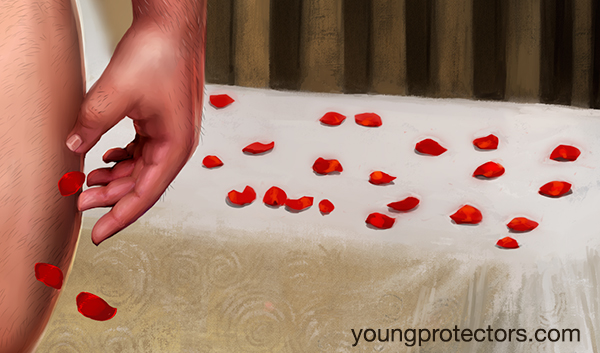 The full-body, fully nude painted version of The Annihilator with background will be posted as a Special Digital Reward under the Creations tab over at my Patreon Page shortly after we hit the Milestone Goal (unless I am asleep 🙂 ). Whether you want to use it for a wallpaper for your phone, or would prefer instead to print it out and throw darts at it, I'll tell you one thing: you won't be disappointed with the art. It was special before. Now it's even more awesome. 🙂
But wait, there's still more!
The $5250/month Milestone Goal was a longer short story answering the question "What does it feel like to kiss Spooky Jones?" And, as I followed the truth of that story, it got kinda steamy. OK, very steamy. And people seemed to like what they read. Here are excerpts from the comments: "Ohhhh myyyyyyyy! Now that was certainly a wonderful diversion, and makes me want to know EVERYTHING about all three characters!", "Oh Alex. Words are escaping me right now. I haven't enjoyed myself with written words like that in a long, long time. I could have read a thousand pages of that story in one sitting, food and water be damned!", and "I'm SO glad I didn't read that at work! I'm here at home fanning myself." Wondering what all the fuss is about? Want to feel some Spooky love? The story is up on the Patreon page right now for all Patrons to read.
Of course, an earlier Milestone Goal allowed me to start posting up the NSFW Full-Monty Digital Kickstarter Rewards as Special Digital Rewards. This full-color, "Full Monty" art shows full-frontal nudity of the adult characters of The Young Protectors, something that I'd never show on this site. The first thing I posted up was the Sexy Height Chart of the Guys, which shows all the male members of The Young Protectors team lined up by height. Curious how our boys measure up? Wondering who's cut and who isn't? Now you can find out! 🙂 (But you'll have to act quickly, because unlike the other rewards, I'm only going to be keeping NSFW rewards on the Patreon Page for 60 days before removing them. If you want more information about finding those sexy images, please take a look at this post here, How to Access Full Monty and other Special Digital Rewards.)
If you become a Patron now and choose to receive the Special Digital Rewards, you will be able to download a wallpaper version of the Sexy Height Chart. You'll also be able enjoy all the other rewards so far posted, including the "How Spooky Got His Cap" short story that folks have liked so much. And, of course, Patrons who chose to get the Special Digital Rewards (which is the vast majority) continue to receive Digital Kickstarter Rewards every Wednesday and get to see special Sneak Previews on Sunday.
Over 875 of you have already become Patrons in the last six weeks. There are lots of great benefits to being a Patron, and you'd really be helping me out if you became one too. If you're enjoying our work here and would like to see it continue (and would like to get access to all kinds of special benefits!),
please take a moment to watch the video on my Patreon page and consider becoming a Patron. 🙂
So! Looks like The Annihilator has a new toy to play with. These meddling kids have made a total mess of the lawn party Sircea and Duncan were having. And Commander is giving Flipper a pep talk. Things have gone from bad to worse. Will our heroes be able to turn things around?
Tune in this Wednesday to find out! Hope to see you there! 😀