Yeah! What happened???
Over on the Patreon Page, for a variety of reasons, I don't want to leave NSFW images up for too long. So, I'm going to be removing the link to the fully painted, naked Annihilator from the recent Flashback Friday post next month. This was the sneak preview image for that: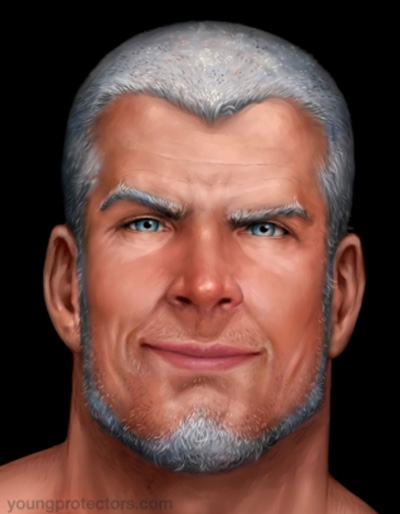 $5 Patrons can still download the full image immediately. And $10 Patrons will get one last chance to get sent a high-res version with over double the resolution on June 10th.
Want to see The Annihilator life-like and naked? This will be your last chance to get access to this gorgeous pin-up!
If you're enjoying our work here and would like to see it continue (and would like to get access to all kinds of special benefits),
please take a moment to watch the video on my Patreon page and consider becoming a Patron.
Also, I'm in Toronto this weekend, May 26-29th, for Yaoi North! Yaoi North is an official part of Anime North and takes place at the Holiday Inn Toronto Airport East at 600 Dixon Road.
It is "the annual LGBTQ-centric programming track that runs as part of Anime North. Programming features a variety of informative panels and events including fandom-specific discussions, queer lifestyle, and yaoi/yuri fandom topics, as well as evening/overnight viewings and a multitude of contests. Popular panels from previous years include World History of Homosexuality, Gay Sex 101 (18+), Crossplay 101, Fandom Ate My Soul, Psychology of Yaoi, Yuri in the West, and Yuri 101."
I'm there all day Saturday, and I'll be giving at least two panels on Saturday about LGBT webcomics. I'll also be selling and signing books in the "Industry Area" of the Dealer's Room in the Toronto Congress Centre, table #IA-11.  Here is a map of where the Industry Area is. And here is a somewhat generic-looking map showing where you can find my table in the Industry Area.
Yaoi North is taking place this weekend, May 26-28, and, while Saturday is now sold out, Sunday tickets are still available at the door (and I'll be there for a the first hour on Sunday morning). Also, since Anime North is a "not-for-profit" fan event, the price is quite reasonable! If you think you might want to go and get a chance to see me, please check it out!
So! Kyle and Commander were able to find The Annihilator! But is it me, or does he seem different?
What are these crazy kids going to have to say to each other?
Tune in this Wednesday to find out! Hope to see you there! 😀