Well… it's good that he's now finally showing a real interest in Kyle's friends, right?
Over on the Patreon Page, I just posted an extra special Flashback Friday! I originally created the FF posts so that new Patrons would be able to enjoy previously posted art—and one of the most requested pin-ups from new Patrons is of Rum Locker's The Annihilator. Well, now it's time has come!
The pin-up is of The Annihilator fully nude but here's a preview of the kind of awesome detail Rum Locker put into this work: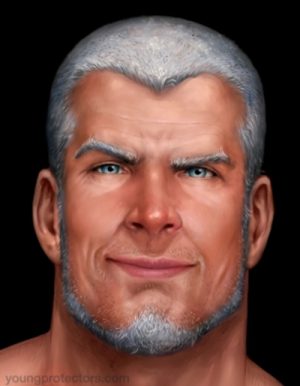 It's like our Duncan come to life!
$5+ Patrons can download two digital wallpapers of the full pin-up immediately: both a SFW headshot and the fully nude NSFW image over sexy black! And $10+ Patrons will be sent high-res versions with over double the resolution on the 10th of March!
There are lots of great benefits to being a Patron (you can see them all here along with an explanation of what the heck Patreon is), and you'd really be helping me out if you became one too. If you're enjoying our work here and would like to see it continue (and would like to get access to all kinds of special benefits),
please take a moment to watch the video on my Patreon page and consider becoming a Patron.
So! Laampros has dispatched with Tsunami. Now he plans to speed cook our Spooky! Will Spooky be able to defend himself and keep those souls safe?
Tune in this Wednesday to find out! Hope to see you there! 😀